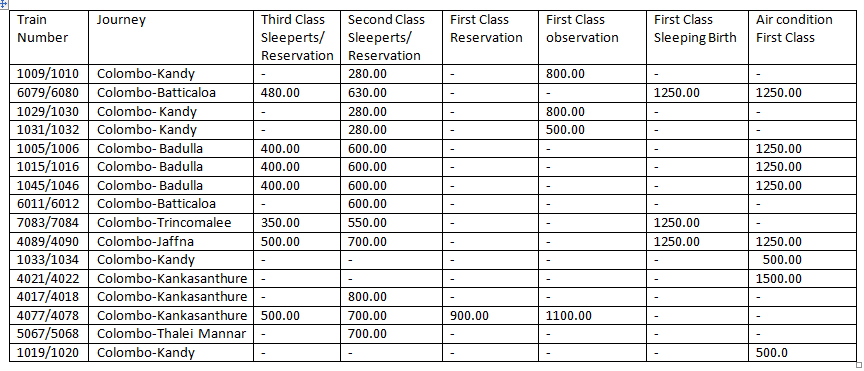 Reservation Methods -
1. Visiting Railway Stations - From 30 days before the Date of the Journey
?

Railway Stations with reservation facility

Telephone Number

Colombo Fort

011-2432908

Wellawaththa

011-2585875

Kalutara South

034-2222271

Aluthgama

034-2275282

Galle

091-2234945

Matara

041-2222271

Gampaha

033-2222271

Veyangoda

033-2287271

Polgahawela

037-2243271

Peradeniya

081-2388271

Kandy

081-2222271

Matale

066-2222271

Gampola

081-2352271

Nawalapitiya

054-2222271

Hatton

051-2222271

Nanu oya

052-2222873

Haputhale

052-2268071

Diyathalawa

057-2229461

Bandarawela

057-2222271

Ella

057-2228571

Badulla

055-2222271

Kurunegala

037-2222271

Anuradhapura

025-2222271

Vavuniya

024-2222271

Palei

025-3245525

Kilinochchi

025-3244653

Kodikamam

025-3246066

Jaffna

021-2222271

Kankasanthure

025-3246526

Thaleimannar

023-3232238

Gal Oya

027-3279375

Hingurakgoda

027-2246271

Polonnaruwa

027-2222271

Walikanda

025-3853764

Punani

025-3898447

Valachchena

065-2257718

Eravur

065-2240514

Batticaloa

065-2224471

Kanthale

025-2234271

Thambalagamuwa

025-3853765

Chinabay

026-2233271

Trincomalee

026-2222271
2. Calling Mobitel Call-Centre - only for Colombo-Kandy Intercity Trains
Reservation of Seats in Express/Intercity/AC Trains through Mobitel, Etisalt and SLT Telephones : From 45 Days before the Date of the Journey
Please follow the undermentioned steps.
1. Dial 365 in your Mobitel/Etisalat Telephones or Dial 1365 in your SLT Telephone

2. The Mobitel/Etisalat/SLT Call Centre Operator will answer
3. Reserve your seat
4. You will receive a Reference Number through a SMS
5. Visit Raiway Station ( Colombo Fort, Gampaha, Peradeniya or Kandy ) or any of the Mobitel Billing Centres and
show ( or tell ) this Reference Number
6. Then, you will receive the Train Ticket

7. Your Train Fare will be added to the Mobitel/Etisalat/SLT Bill. Mobitl/Etisalat/SLT will charge additional 15% of the Ticket Reservation Value.
Payments :

4003/4004 , 4017/4018 දරණ දුම්රිය නගරාන්තර දුම්රිය සදහා තෙවන පන්තියේ සාමාන්‍ය ගාස්තු(TC) 2014-10-20
| | | | | | | | | | | | | | |
| --- | --- | --- | --- | --- | --- | --- | --- | --- | --- | --- | --- | --- | --- |
| | FOT | GPH | PLG | KRN | GLM | TBM | ANP | MWH | VNA | KOC | PAL | KKM | JFN |
| FOT | � | � | � | � | � | � | � | � | � | � | � | � | � |
| GPH | 180.00 | � | � | � | � | � | � | � | � | � | � | � | � |
| PLG | 180.00 | 180.00 | � | � | � | � | � | � | � | � | � | � | � |
| KRN | 180.00 | 180.00 | 180.00 | � | � | � | � | � | � | � | � | � | � |
| GLM | 280.00 | | 280.00 | 180.00 | � | � | � | � | � | � | � | � | � |
| TBM | 280.00 | | 280.00 | 180.00 | 180.00 | � | � | � | � | � | � | � | � |
| ANP | 280.00 | | 280.00 | 180.00 | 180.00 | 180.00 | � | � | � | � | � | � | � |
| MWH | 320.00 | | 320.00 | 280.00 | 280.00 | 280.00 | 180.00 | � | � | � | � | � | � |
| VNA | | | 320.00 | 280.00 | 280.00 | 280.00 | 180.00 | 180.00 | � | � | � | � | � |
| KOC | 380.00 | | 380.00 | 320.00 | 320.00 | 320.00 | 280.00 | 180.00 | 180.00 | � | � | � | � |
| PAL | 380.00 | | 380.00 | 320.00 | 320.00 | 320.00 | 280.00 | 180.00 | 180.00 | 180.00 | � | � | � |
| KKM | 520.00 | | 520.00 | 380.00 | 380.00 | 380.00 | 320.00 | 280.00 | 280.00 | 180.00 | 180.00 | � | � |
| JFN | 520.00 | 520.00 | 520.00 | 380.00 | 380.00 | 380.00 | 320.00 | 280.00 | 280.00 | 180.00 | 180.00 | 180.00 | � |
�
�
�
�
�
�
�
�
�
�
�
�
�
�
�4003/4004 , 4017/4018 දරණ දුම්රිය නගරාන්තර දුම්රිය සදහා දෙවන පන්තියේ සාමාන්‍ය� ගාස්තු� (SC) 2014-10-20

| | | | | | | | | | | | | | |
| --- | --- | --- | --- | --- | --- | --- | --- | --- | --- | --- | --- | --- | --- |
| | FOT | GPH | PLG | KRN | GLM | TBM | ANP | MWH | VNA | KOC | PAL | KKM | JFN |
| FOT | � | � | � | � | � | � | � | � | � | � | � | � | � |
| GPH | 250.00 | � | � | � | � | � | � | � | � | � | � | � | � |
| PLG | 250.00 | 250.00 | � | � | � | � | � | � | � | � | � | � | � |
| KRN | 250.00 | 250.00 | 250.00 | � | � | � | � | � | � | � | � | � | � |
| GLM | 400.00 | | 400.00 | 250.00 | � | � | � | � | � | � | � | � | � |
| TBM | 400.00 | | 400.00 | 250.00 | 250.00 | � | � | � | � | � | � | � | � |
| ANP | 400.00 | | 400.00 | 250.00 | 250.00 | 250.00 | � | � | � | � | � | � | � |
| MWH | 480.00 | | 480.00 | 400.00 | 400.00 | 400.00 | 250.00 | � | � | � | � | � | � |
| VNA | | | 480.00 | 400.00 | 400.00 | 400.00 | 250.00 | 250.00 | � | � | � | � | � |
| KOC | 550.00 | | 550.00 | 480.00 | 480.00 | 480.00 | 400.00 | 250.00 | 250.00 | � | � | � | � |
| PAL | 550.00 | | 550.00 | 480.00 | 480.00 | 480.00 | 400.00 | 250.00 | 250.00 | 250.00 | � | � | � |
| KKM | 700.00 | | 700.00 | 550.00 | 550.00 | 550.00 | 480.00 | 400.00 | 400.00 | 250.00 | 250.00 | � | � |
| JFN | 700.00 | 700.00 | 700.00 | 550.00 | 550.00 | 550.00 | 480.00 | 400.00 | 400.00 | 250.00 | 250.00 | 250.00 | � |
�
�
�
�
�
�
�
�
�
�
�
�
�
�
�4003/4004 , 4017/4018� දරණ දුම්රිය නගරාන්තර දුම්රිය සදහා දෙවන පන්තියේ වෙන්කල ආසන ගාස්තු (SCR) 2014-10-20
| | | | | | | | | | | | | | |
| --- | --- | --- | --- | --- | --- | --- | --- | --- | --- | --- | --- | --- | --- |
| | FOT | GPH | PLG | KRN | GLM | TBM | ANP | MWH | VNA | KOC | PAL | KKM | JFN |
| FOT | � | � | � | � | � | � | � | � | � | � | � | � | � |
| GPH | 280.00 | � | � | � | � | � | � | � | � | � | � | � | � |
| PLG | 280.00 | 280.00 | � | � | � | � | � | � | � | � | � | � | � |
| KRN | 280.00 | 280.00 | 280.00 | � | � | � | � | � | � | � | � | � | � |
| GLM | 450.00 | 450.00 | 450.00 | 280.00 | � | � | � | � | � | � | � | � | � |
| TBM | 450.00 | 450.00 | 450.00 | 450.00 | 280.00 | � | � | � | � | � | � | � | � |
| ANP | 450.00 | 450.00 | 450.00 | 450.00 | 280.00 | 280.00 | � | � | � | � | � | � | � |
| MWH | 500.00 | 500.00 | 500.00 | 500.00 | 450.00 | 450.00 | 280.00 | � | � | � | � | � | � |
| VNA | 500.00 | 500.00 | 500.00 | 500.00 | 450.00 | 450.00 | 280.00 | 280.00 | � | � | � | � | � |
| KOC | 680.00 | 680.00 | 680.00 | 680.00 | 500.00 | 500.00 | 450.00 | 280.00 | 280.00 | � | � | � | � |
| PAL | 680.00 | 680.00 | 680.00 | 680.00 | 500.00 | 500.00 | 450.00 | 280.00 | 280.00 | 280.00 | � | � | � |
| KKM | 800.00 | 800.00 | 800.00 | 800.00 | 680.00 | 680.00 | 500.00 | 450.00 | 450.00 | 280.00 | 280.00 | � | � |
| JFN | 800.00 | 800.00 | 800.00 | 800.00 | 680.00 | 680.00 | 500.00 | 450.00 | 450.00 | 280.00 | 280.00 | 280.00 | � |
�
�
�
�
�
�
�
�
�
�
�
�
�
�
4021/4022 දරණ වායු සමනය කල නගරාන්තර දුම්රිය ගාස්තු (AFC) 2014-10-20
| | | | | | | | | |
| --- | --- | --- | --- | --- | --- | --- | --- | --- |
| � | FOT | ANP | MWH | VNA | KOC | PAL | KKM | JFN |
| FOT | � | � | � | � | � | � | � | � |
| ANP | 1000.00 | � | � | � | � | � | � | � |
| MWH | 1000.00 | 1000.00 | � | � | � | � | � | � |
| VNA | 1500.00 | 1000.00 | 1000.00 | � | � | � | � | � |
| KOC | 1400.00 | 1000.00 | 1000.00 | 1000.00 | � | � | � | � |
| PAL | 1400.00 | 1000.00 | 1000.00 | 1000.00 | 1000.00 | � | � | � |
| KKM | 1500.00 | 1000.00 | 1000.00 | 1000.00 | 1000.00 | 1000.00 | � | � |
| JFN | 1500.00 | 1000.00 | 1000.00 | 1000.00 | 1000.00 | 1000.00 | 1000.00 | � |
REFERENCE;
| | |
| --- | --- |
| Station Code | Station Name |
| FOT | Colombo Fort |
| GPH | Gampaha |
| PLG | Polgahawela |
| KRN | Kurunegal |
| TBM | Thambuththegama |
| ANP | Anuradhapura |
| MWH | Medawachchiya |
| VNA | Vawniya |
| KOC | Kilinochchi |
| PAL | Palei |
| KKM | Kodikamam |
| JFN | Jaffna |
�
Organization Information
Department of Railways


Railway Headquarters,
P.O. Box 355,
Colombo.


Mr.K.J.A.G.P Jayawardhana
Telephones:+94 11 2 421281
Fax Nos:+94 11 2 446490
Email:gmr@railway.gov.lk
Website: www.railway.gov.lk